Monarch Home Furnishings has teamed up with Clyde to offer top-tier product coverage. Coverage by Clyde is underwritten by A rated insurance carriers and comes with easy to understand terms, a simple claims process and competitive pricing. By adding coverage to your purchase you can enjoy our products knowing Clyde has your back.
With a Clyde Protection Plan, your products are covered for:
To add Clyde to your purchase, select a term while adding your product to the cart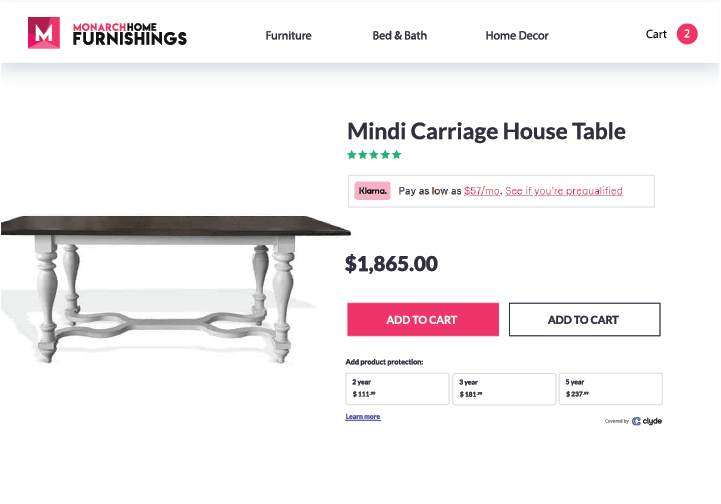 What happens when I purchase a protection plan?
After you purchase a protection plan, Clyde with send you an email (your declarations page) with a link to your terms and conditions. There, you can read a summary of your plan and file a claim.
AYou can file a claim using the link that Clyde sends you once a purchase a protection plan. Claims can be submitted online or over the phone. You can also find your contract and submit a claim by going directly to hiclyde.com.
Are contracts backed by an insurance company?
All Clyde contracts are backed by A-rated insurance partners. Clyde partners with a marketplace of insurers bringing you the highest quality coverage for the lowest price.
What if I return my product?
If you return your product your contract will automatically be returned as well. Depending on when you return your item, you may receive a pro-rated amount for your contract depending on how much time the contract was in effect for.